When visions become reality
If our creative designers make sketches, then you see always innovative ideas. But if these ideas are still implementable, beyond functional and stylish at the same time, it is certainly a very special product line: SITAGINLINE CONFERENCE. Whether the conference table or desk, the selected disc forms are constructed in variable form.
Individual solutions for the modern, exclusive conference area
The flexible and versatile table system SITAGINLINE CONFERENCE for conference areas impresses with its sophisticated, modern style. By the two-color X-frame a three-dimensional effect of depth is achieved. Combined with both sides painted and veneered material panels results in a slight, seemingly floating overall appearance.
The high-quality conference table program for management areas include different top shapes and sizes. In addition to the X--frame optionally are also an A-frame and a column base available.
Among to its elegant appearance, the varied conference and working table program also features on good internal values​​. Individually SITAGINLINE CONFERENCE can be equipped with custom-made modern media technology. The individual components of the sockets up to connections for iPhone or iPad can easily be integrated.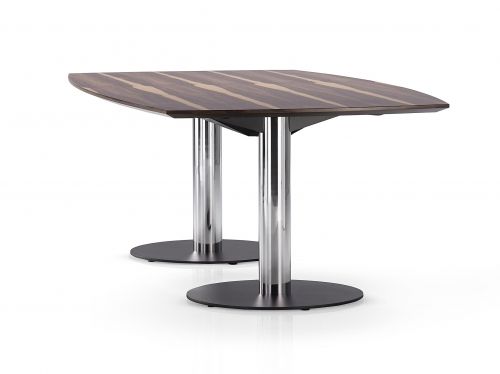 DESIGN: Seventh Sense
Seventh Sense is a design and innovation consultancy based in Switzerland and Milan/Italy. The international design team creates more than a decade creative design solutions for clients such as 3M, AEG, Völkl, Scotch, etc. Its work has been repeatedly with design awards including the Red Dot Award, Award for Good Design, Best Promotional Gift Award among others excellent.
When visions become reality
Base frames
The integrated aluminum bar allows you to move the feet in the optimum position. The electrification will be made from the floor by the foot on the table (except for the A-frame). Three base variants are available:
X-frame
By the two-color X-frame a three-dimensional effect of depth is achieved. Four colors are at choice. The cover is alwaxs in chrome.
A-frame
Chromed pedestal with its cantilevers appear very light and elegant thanks to its cone foots.
Column frame
The use of column frames ensures freedom of leg movement and therefore an optimal utilization by the chair placement.
Cable duct
Cable duct can be adapted on the right lenght by telescope version. If that application is not be needed, a light version (not extensible) is available for supply.
Table tops
Both sides painted or veneered material panels. Thanks to the facet arise as a result a floating and light appearance.
Table dimensions straight (height 74 cm)
Length in cm: 180, 200, 220, 240, 260, 280, 300
Width in cm: 90, 100, 120
Table dimensions boat-shaped (height 74 cm)
Length in cm: 180, 200, 220, 240, 260, 280, 300, 320
Width in cm: 90, 100, 130
ES16
white ash
AH11
raised maple
ES39
light-grey ash
BU16
copper-brown beech
BU10
natural beech
EI10
plain natural oak
ES33
black ash
SW
black
AM
metallic anthracite
SI
silver
PW
pearl white
BS
brown-black
CR
chrome-finish
4176
mushroom
4132
ash
4164
salsa
4023
nero
ST01
white
ST10
white-grey
ST90
light beige
ST13
brown-black
ST24
red-brown
EB10
pear wood (service tree)
NU11
raised nutwood
AKI10
matte cherry
AKI00
stained cherry matte
EI40
smoked oak
NS10
nutwood satin
OV10
matte olive
SN10
choconut
GC10
golden cherry
ZC00
ziricote
ME00
macassar ebony matte
ME200
macassar ebony glossy
IAP00
indian apple tree, matte
IAP200
indian apple tree, glossy

K4315
organza
K4312
beige
K4319
light grey
K4311
white
K4317
black
K4320
anthracite
K4314
samit